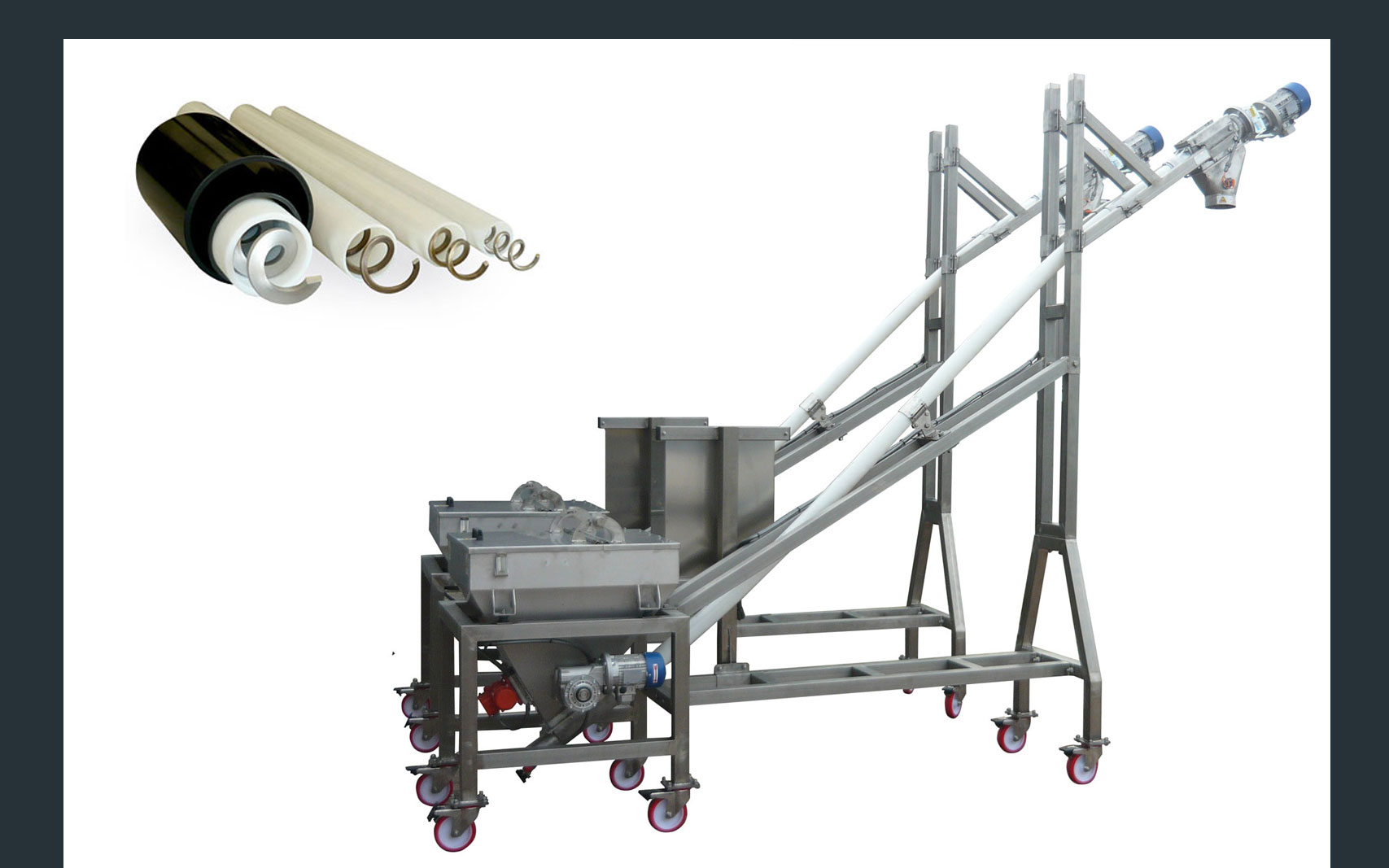 Flexible auger conveyors are capable of conveying a wide range of dry bulk solids (free flowing powders, granules, small pellets) in any direction
Dust protection
Protection against product inflitration by static and dynamic seal rings
Easy cleaning
By gates located at the pick up and unloading positions of the conveyor
Flexible screw conveyors to avoid obstacles in the plant
---
This type of powder transfer systems easily fits to existing plants thanks to its flexibility to overcome significant differences in height and cover long distances. The rotary spiral is made of carbon or stainless steel thermally treated in round, rectangluar or squared sections, depending on the application required. The spiral drive shaft is supported by means of roller bearing inserted in the flanged body of connection with the electric motor: in this way the motor bearing are not affected by the stresses transmitted by the spiral.
Our flexible screw conveyors can easily integrate with a complete range of upstream and downstream powder handling equipment, also with portable base frame with wheels.
ATEX - Explosion Proof Protected
All Gimat flexible spiral conveyors are available ATEX rated for use in explosive atmospheres (Directive ATEX 2014/34/EU FOR ZONE 2-22 / ZONE 1-21).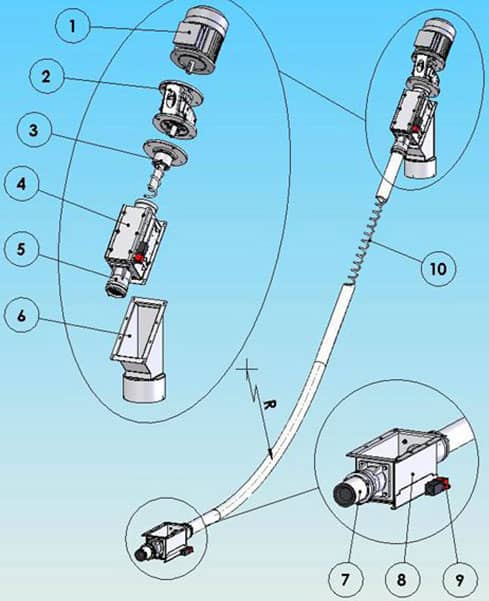 Electric motor
Reducer
Pulling unit for flexible spiral with bearing and dust seals
Outlet
Tube fixing sleeve
Discharge manifold
Expansion terminal
SFS Type pickup probe
Safety micro switch
Flexible spiral tube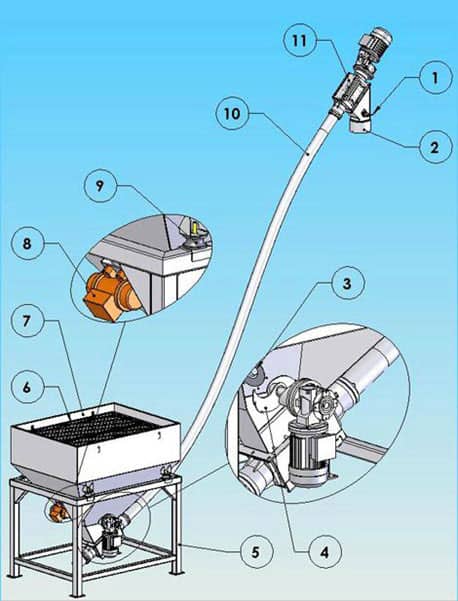 Maximum level sensor
Manifold discharge
Hopper minimum level sensor
Bridge breaker unit
Hopper frame
Safety grid
Hopper
Electromedical vibrator
Electric anti-vibration dowels
Flexible conveyor tube
Outlet unit
features
---
Homogenize products during transport
Prevent demixing of already mixed/batched bulk materials
Portable versions on wheels with hoppers
models and dimensions
---
| Model | Capacity (litres/h) | Outside diameter (mm) | Minimum bending radius (mm) |
| --- | --- | --- | --- |
| MAR 40 | 140 | 40 | 1000 |
| MAR 55 | 400 | 55 | 1400 |
| MAR 65 | 850 | 65 | 1600 |
| MAR 70 | 1250 | 70 | 1800 |
| MAR 80 | 1800 | 80 | 2500 |
| MAR 90 | 2500 | 90 | 2800 |
| MAR 100 | 3500 | 100 | 3000 |
| MAR 110 | 4600 | 110 | 3800 |
| MAR 125 | 7500 | 125 | 4500 |