Industrial mixers
---
An industrial mixer is used for mixing and blending of dry bulk materials, to obtain an homogeneous ouptut product, in a large number of industries, such as food, chemicals, plastics, pharmaceutical. The mixing equipment very often must be specifically engineered for the type of product, the mixing requirements and the specific application. Therefore a mixer manufacturer must have extensive experience in testing and designing machines for the powder mixing processes, performed at different temperatures or pressures.
Industrial blenders and mixers that use the latest technolgy can maximize the efficiency and can be integrated with modern production control systems. And a powder mixing machine especially in the food and chemical industries must comply with strict safety standards. Gimat industrial mixers meet both needs.
Our proprietary technology allows us to maintain a complete control over the quality of components and ensures the reliability of Gimat powder mixers.
Vertical mixers and blenders
---
Thanks to the special helicoid shape, the mixing process is faster and more homgeneous compared to traditional vertical powder mixers, especially at the centre of the mixing chamber. A die-cast food grade aluminum frame with two large ball bearings creates an effective joint for the mixing shaft.
The rotation of the helicoid creates two crossed flows:
An ascending flow of product in the outer and peripheral part of the mixing chamber
A downward flow in the center thanks to the effect of gravity
Our industrial blenders have smooth surfaces that facilitate the elimination of residue during emptying and ensure easy maintenance and cleaning.
The powder mixing is gentle, without overheating the mixed product. A conical ribbon blender can be used as homogenizer of the same powders but of different batches. In our vertical powder mixer, vacuum mixing is also possible for pneumatic loading, to create a continuous high-flow pneumatic conveying system for powders.
ATEX - Explosion Proof Protected
Our vertical industrial blenders are suitable for use in explosive atmospheres (Directive ATEX 2014/34/EU FOR ZONE 2-22 / ZONE 1-21).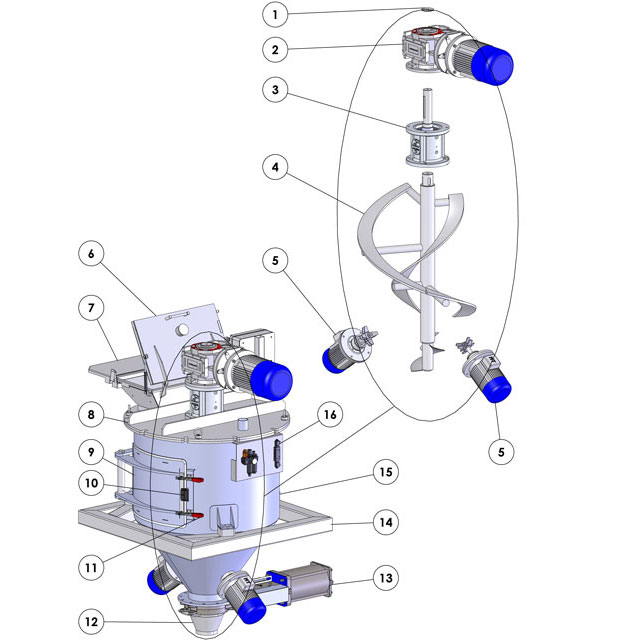 - 2. Gearmotor
Bearing holder drive unit made of aluminum or stainless steel
Mixing Ribbon Shaft
Mixing Choppers
Inspection hatch
Shelf supports bags to be emptied
- 14. - 15. Stainless Steel Mixer Body and frame
Cleaning hatch
Safety Micro Switches
Manual Fasteners
Exhaust Manifold
Electropneumatic Gate Valve
Pneumatic Control Panel