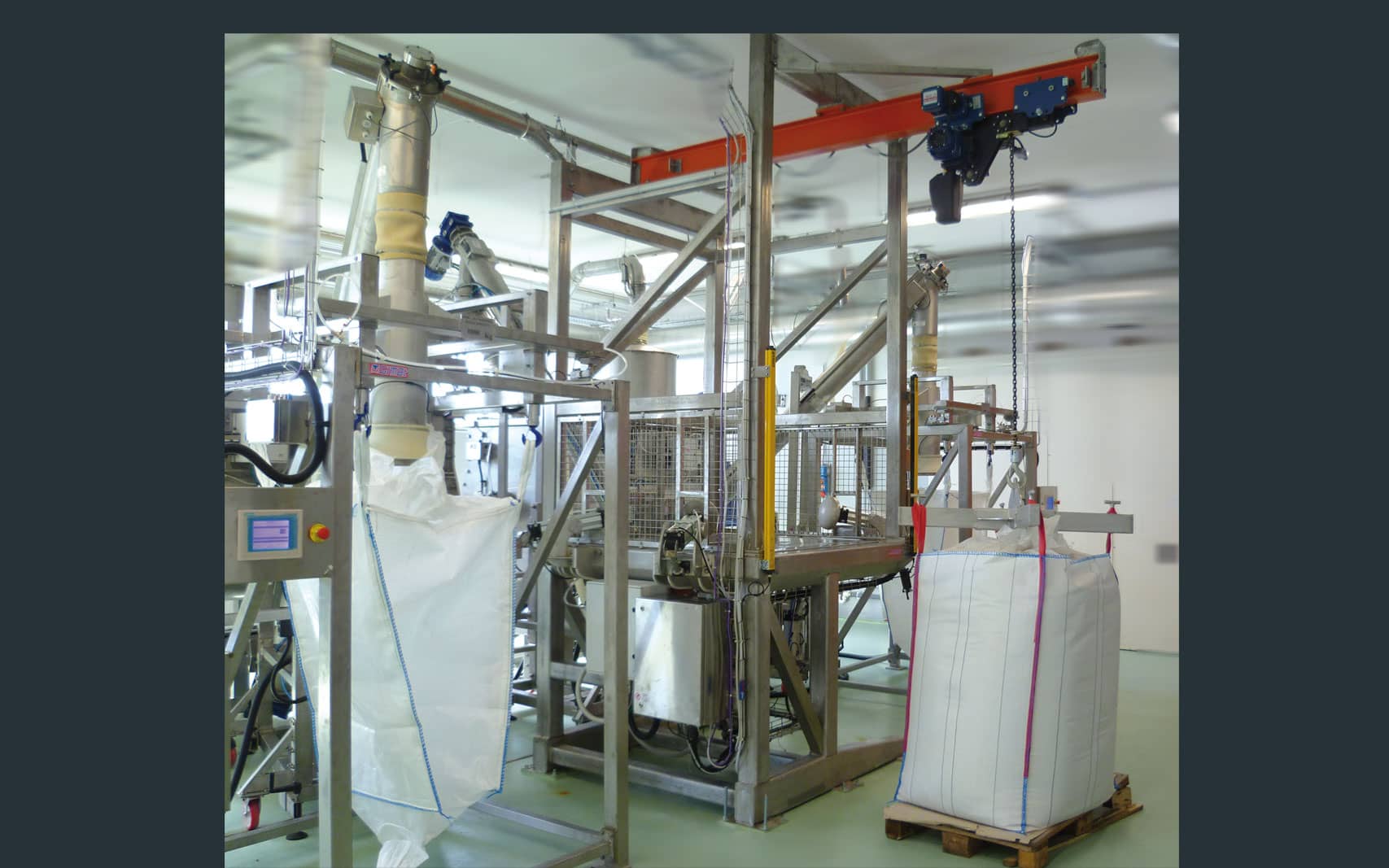 Gimat big bag filler is an efficient and easy to use unit designed for bagging large quantities of bulk materials
Telescopic frame
Adjust the height to the dimensions of bulk bag, with optional pneumatic pistons
Load cells
For accurate weighing (complete with anti-tipping device)
Inflatable pneumatic neck seal
For a dust-free air displacement during filling
Bulk bag filler: semi-automatic filling and weighing systems
---
We produce 2 standard models for filling FIBCS, designed for bag capacities of 2,200 lb (1000kg) and 4,400 lb (2000 kg). Gimat bulk bag filler unit is dust free and benefits from an adjustable frame (made of stainless steel Aisi 304 or 316) to accommodate a wide range of different bag heights.
Thanks to its modular design our bulk bag loader can be easily combined and integrated in any powder processing and packaging applications. The filled bulk bag can be easily removed by forklift or pallet jack.
ATEX - Explosion Proof Protected
On request the bulk bag filling station can be designed and manufactured in compliance with the Directive ATEX 2014/34/EU FOR ZONE 2-22 / ZONE 1-21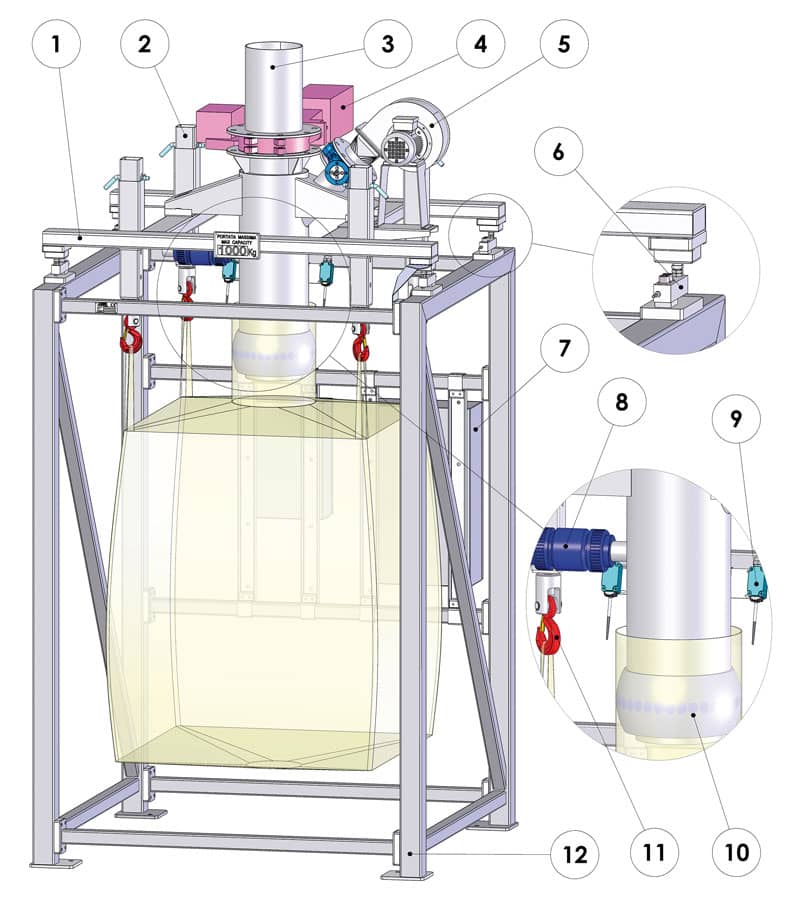 Upper spider
Vertical adjustable uprights
Drop tube
Slide valve for intercepting supply
Centrifuge fan for inflating bulk bag
Load cells with anti-tipping accessory
Control panel
Sleeve valve to connect powder suction system
Lever switch
Pneumatic sleeve
Swinging lift hooks
Support frame
Specially designed filling head
A rubber sleeve with pneumatic inflation ensures a tight connection to effectively contain the dust during the bulk bag filling operations.
Mobile structure
Frame on wheels adjustable in height.
Bulk bag inflation
By electric fan or pneumatic air blower, to fully expand the bag and maximize fill volume.
Vibrating table
At the base of the frame (with proper vibration isolation) to compact the product and optimize the filling coefficient of the big bag, ensuring deaeration when necessary.
models and dimensions
---
| Model | Max Load (kg) | A (mm) | B (mm) | C (mm) | D (mm) | E (mm) | F (mm) | G (mm) | H (mm) | I (mm) |
| --- | --- | --- | --- | --- | --- | --- | --- | --- | --- | --- |
| SSR.10/20 | 1000/2000 | 2900 | 1480 | 200 | 282 | 500 | 330 | 2130 | 1780 | 1460 |